The buzz around the NFT domain has increased tremendously. Almost all digital platforms have invested their time and capital in the process of developing non-fungible tokens. The NFTs are unique digital assets that are built on a blockchain network. The prime factor of NFT is that it is unique and cannot be replicated by any external or internal sources. This makes it a suitable candidate for integrating itself with complex structures. In terms of complex structures, at the present time, the real estate industry is aggressively implementing the concept of non-fungible tokens. To be a part of this real estate revolution, avail of the NFT for real estate development solutions from Infinite Block Tech.
What is Non-Fungible Token?
NFT is a variant of DeFi tokens, as the name suggests, it is not fungible, meaning it cannot be interchanged or replaced with another token of the equivalent value. Since NFTs are unique and rare in nature. Non-fungible tokens represent digital assets, including image files, video files, GIFs, trading cards, digital artworks, etc.
In recent years, NFT has been transformed as the most trending subject in the digital space, and they have a high value in the market for their individuality. The NFT space comes up with many innovative changes as the days progress.
Characteristics Of Non-Fungible Tokens
NFTs can be traded easily, they have the capability to be sold on unique marketplaces. The trading is primarily dependent on their uniqueness.
Scarcity is the primary beneficial factor of NFT. The NFT programmers limit the production of non-fungible tokens in order to maintain the value of the token.
Since NFTs are built on blockchain technology, the transactions of the purchase are secured by the network. Thus, increase the trust between the platform and the users.

How Is Real Estate Platform Being Evolving In The Domain Of NFTs?
The concept of non-fungible tokens is allowing users to experience a unique and interesting world of virtual real estate. In this unique platform, users can buy virtual landscapes assets as NFTs. This is a very innovative and exciting way of helping users to earn money. Every asset in the platform is an NFT. The users can rent out their virtual assets like shopping malls, gas stations, houses on rent for other users and also earn money through the concept of NFT. The assets in virtual real estate are represented in the form of NFT. Thus, they can be traded on the NFT marketplace platform.
NFTs are tokenized representations of any digital items, and they can even represent the real estate. Many fraudulent activities have haunted the Real Estate Industry, and any anti-social elements can forge the original documents of a person.
Real Estate NFTs represent the ownership information of an asset that is recorded on the secure blockchain. These real estate NFTs are in digital format, and no one can feel them physically. The essential details are mapped in digital format and get recorded in a smart contract.
Traditional Real Estate Vs. NFT Real Estate
Virtual real estate and traditional real estate share many commonalities, but their major difference is their location of availability. If you can understand the concept of physical real estate, you can easily understand the idea of NFT Real estate and conclude that the latter has a clear edge over the former.
In the traditional system, it is arduous for individuals to comprehend some complicated legal process, and there are also issues regarding ownership. Usually, we experience many ownership drawbacks, including fake documents and other problems that lead to loss of money.
NFT Real Estate guarantees ownership of every single property as they are written in smart contracts. Implementing NFTs in the real estate industry has become an outstanding solution for the shortcomings present in traditional real estate.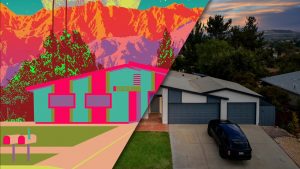 Working Of NFT With Virtual Real Estate
The monetization of virtual assets presented in the platform is the core working of a virtual real estate platform. The virtual landscapes that are bought or traded are monetized with the help of NFT marketplace platforms. At the initial stage, the user should connect the chosen NFT marketplace with a crypto wallet, then the virtual asset is uploaded to the platform. After the uploading process is completed, the minting process will be initiated. The minting process converts the uploaded virtual asset into non-fungible tokens. It is then initiated on the listing section of the same marketplace. The description for the NFT can be provided before or after the listing process. The listed virtual real estate NFT is sold on either fixed-rate sale or auction sale, it is completely dependent on the user's desire.
Alluring Benefits of Real Estate NFT
Listed below are some of the key benefits of Real Estate NFTs
Globalization
Tokenization dismisses all geographical barricades, and you are permitted to trade with anyone, this benefit expands your business opportunities and increases your level of profitability.
No space for intermediaries
By tokenizing real estate assets, users are allowed direct P2P transactions without letting the space or involvement of any middlemen. It lessens additional costs and ensures a hassle-free business that has caught the attention of many crypto users.
Quick and efficient transactions
Tokenization completely eradicates the tedious, long real estate process and assists with instant and efficient P2P transactions from any nook and
corner of the world.
Unparalleled level of security
Not a single organization or individual can take command over the entire system, and the power is distributed equally among different users. They use advanced cryptographic techniques like private keys to access their respective digital assets.

Our NFT For Real Estate Development Process
The implementation of NFTs into the real estate world has become a very trending concept. All business models are looking to develop their own NFT marketplace platform to trade real estate as NFTs. At Infinite Block Tech, we have efficient digital products for your NFT for real estate marketplace platform, they are whitelabel NFT marketplace development and clone script NFT marketplace development.
Whitelabel NFT marketplace development
Whitelabel NFT marketplace development method allows users to launch their crypto product immediately into the digital space with greater accuracy. At our NFT development company, we have various customized whitelabel marketplaces for real estate, and the user chooses their desired NFT for the real estate marketplace platform. This method is quick and cost-effective. This is a suitable platform for crypto businesses that are focused on short-term profit.
Clone Script NFT Marketplace Development
At Infinite Block Tech, we specialize in developing clones for NFT marketplace platforms. Our clone script will be a direct replication of the customer-specified NFT marketplace for trading real estate as NFT. In the development method, the clone script can be customized after the deployment stage, unlike, in the whitelabel marketplace development process, the whitelabel product cannot be customized after the deployment of the platform. This platform is suitable for business models that are invested in long-term plans.
Why Hire Infinite Block Tech As Your NFT Development Platform Service Provider?
Our Infinite Block Tech is a pioneer in the field of non-fungible tokens. We have prior experience in developing NFT for real estate businesses at a high level. The real estate domain has been a major influence in the business field. To ensure a smooth digitized real estate business to customers, we have the perfect technical team to develop a seamless NFT real estate marketplace with a variety of blockchain technology implementations. We customize every stage of the development process according to your specifications and produce a perfect NFT real estate marketplace and we also equip your newly created marketplace with effective nft marketing strategies such as email marketing, social media marketing, forum marketing, content marketing, etc.