A Deep Dive Into The World of NFT
NFTs, the word has become quite a celebrity itself. NFT stands for Non-Fungible token. NFTs have changed the digital world with their mere presence. The implementation of NFTs have distributed the control to all the users instead of one centralized user.
Individual artists, creators, and business organizations from various fields, including retail, music, entertainment, consumer products, fashion, medical, etc., have been actively investigating new methods to connect with the world of NFTs in reaction to their huge popularity. While some have chosen to develop their NFT marketplace, most have discovered that partnering with an NFT marketplace development firm is more feasible, as it can lower upfront costs, provide access to a larger existing customer base, and provide valuable add-on services like marketing, legal, and technical support. Our organization offers you the best in class White label NFT marketplace development services.
NFT Marketplace and its Promising Future
The NFT marketplace allows you to mint, purchase, and sell digital assets, known as non-fungible tokens (NFT). The possibilities in the NFT marketplace are virtually endless. Anything can be digitally tokenized, such as gaming stuff, avatars, digital art, domain names, music, or event tickets. And they're all digitized on the blockchain network, which is one of the best features in creating an NFT marketplace.
And if you're thinking about entering the NFT market, stick with us to the finish. We'll go through NFT marketplace development, why you should construct one, and how to design one.
Of course, partnering with the right marketplace can open up new markets and revenue streams, while partnering with the wrong platform can backfire spectacularly. When leveraging a rapidly evolving new technology like NFTs, the right choice isn't always obvious. It's vital to understand the landscape of available platforms and select the best match for your NFT products to prevent making expensive mistakes.
Why Go for NFT Marketplace Development?
Aside from the highest sold NFT went for $91.8 Million, creating your NFT marketplace gives NFT owners and buyers a place to meet. You're also providing opportunities for people who wish to mint and trade. In exchange, you earn money by charging transaction fees. Thousands of NFT sales occur in such a marketplace, which is a compelling option for creating one. The NFT marketplace, which serves as a shared platform for buyers and sellers, has made things easier for them. It has supplied the ideal and appropriate possibility to earn money.
Furthermore, the NFT marketplace is the only area where non-fungible tokens may be traded. People also don't have a lot of choices. As a result, it's just becoming bigger, and investing in it is a wise choice.
Business Use-Cases of The NFT Marketplace Development
The NFT marketplaces have come a long way to play a crucial role in the growing economy and new business opportunities. Some of the varied methods of NFT integration are:
Long-lasting queues, mind-boggling paperwork, and unethical behavior are all ending, with the introduction of blockchain technology in the financial sector, providing large crypto sums performing every banking transaction. Users can collateralize their NFTs for a loan.
By Preserving the authenticity, integrity, and ownership of the rightful person regarding the arts, NFT has revolutionized the artisan world with its power to remove ownership and identity theft. NFT arts are still on the top of the chain to streamline a secondary passive income stream.
Gaming assets, physical items, and in-game assets like avatar persona, skins, clothing, items, battle equipment, armors, environments, and everything in between, are being converted into NFTs and sold online, setting a new dawn on the NFT gaming community.
In addition, many tiny and inventive NFT-first fashion firms are creating digital clothes, often alongside real items, to sell to crypto-savvy customers. Virtual and augmented entanglement to reality technology may be used to wear this virtual couture. And, given that haute couture is the ultimate collector's item, it's only natural that it expands into the NFT as the digital collectible.
NFT Marketplaces are stepping up the game in all society's genres, specifically in real estate. The real-estate assets are being converted in the NFTs and are being listed on the real-estate NFT marketplaces. These plots and lands, being a part of the blockchain network, these plots are leased and sold separately.
Essential Features for an NFT Marketplace Development
Check out these primary features of an NFT marketplace, which users mainly focus on before going about anything else.
First and foremost, users have to see every detail regarding the NFTs in front of them, all at once. So having the information about the NFTs right in front of them is essential, like a name, description, price, blockchain address, and display picture.
Every marketplace has to have an advanced searching and sorting algorithm so that every user is delighted with the NFT of their choice. Searching and sorting the NFTs with categories will help participants to purchase their likable assets.
Users can freely mint and list their NFT assets without having to think over the platform fee structure. Customers should have the ability to create and list collectibles. Ascertain that they can do it swiftly and without any difficulty. Information such as title, tags, and description are required to list the NFT assets.
The most critical feature to integrate into your NFT marketplace is having options for auctions and direct purchasing of the NFTs. It appeals to both types of customers, one who looks to have fun bidding and one who wants to purchase directly at any time.
NFT platforms cater to various needs of the participants using NFT wallets. Users are provided with the most secure way to transfer assets in the NFT marketplace. It lets users integrate any decentralized wallet on the platform to buy, sell, or trade NFTs.
Development Process of NFT Marketplace
Users can enroll their real-world assets in a chosen NFT marketplace development firm to digitize and bring their ideas to life after selecting an NFT marketplace. The following are the steps to assist you with the creation of your NFT platform from start to finish:
Not every interested person knows the NFT world. Therefore we have an expert team of market analysts that help them figure out the NFT world and its movements. Our team has experience in the decentralized environment for over a decade and knows the NFT market well. We guide our clients in launching the best NFT marketplace in the digital world.
The first and foremost step is to select the blockchain network. Every blockchain offers different features and gas fees. The following are the most common blockchains to choose from: Ethereum, Binance Smart Chain, Solana, Cardano, and Polygon. The selected blockchain should be compatible with your business and NFT marketplace development.
Building a successful NFT marketplace platform requires simplifying and optimizing your user experience. You may construct an intuitive, simple, and enjoyable user interface with the aid of our NFT marketplace development business. We have the best design team that ensures that the NFT marketplace is simple.
Smart Contracts Integration
Smart contracts carry out every operational duty in an NFT marketplace. Our smart contract developers build them to manage your business and NFT marketplace requirements. They are the ones who start all of the procedures on an NFT platform. To get things started, you'll need the assistance of our NFT marketplace development business to construct and deploy these smart contracts.
Because keeping data on the blockchain is costly, all NFTs metadata related to a single token is normally stored outside the network. One alternative is to store metadata in IPFS, a peer-to-peer network for collecting and distributing data in a distributed file system. We have provided a separate database system to easily manage all the NFT assets.
After thorough testing, your NFT marketplace platform is ready to be deployed to the decentralized world. Testing eliminates the errors and bugs in the developed NFT marketplace and makes it reliable to be launched.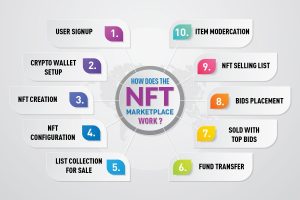 Benefits of Our NFT Marketplace Development!
Our White label NFT marketplace comes with the platform design thats user-friendly, has personalized features, and result-based solutions.

Blockchain technology's opportunities will be used for the NFT marketplace and other golden features like currency exchange, data authenticity, integrity, and ownership with carefully crafted smart contracts.

Despite its popularity and rapid growth, a substantial portion of the population is unaware of what NFT is. As a result, there is a significant possibility for business enthusiasts to teach and earn. And, if you establish yourself as a reliable source of information, you will almost surely become their preferred trading platform.
Criteria of NFT Marketplace Cost Analysis
The overall cost of the whole operation depends on the region from which the platform will be launched. Hiring a decentralized development firm to customize the White label NFT marketplace from different regions will have a different take on the cost.
The developer's skillset, experience, knowledge, and negotiation skill are all inferred on total charges.
The features, User Interface, Development Tools, Resources, and tasks to build the NFT Marketplace platform will inflate costs.
Adding more and more operating systems like Windows, Android, iOS, and others will only complicate the project and increase the cost.
Important Features for an NFT Marketplace Development
Below is a process method that demonstrates the capabilities of the NFT marketplace in detail. Have a look at it.
Buyers or sellers, whoever they are, must create an account. This will take a few minutes, and they will need to fill in the required fields. They may register using their email addresses, phone numbers, or social media credentials, which makes the procedure quite straightforward.
After completing the initial sign-up procedure, customers should link their crypto wallet to their NFT marketplace account. They can enroll using crypto wallets if they don't already have one. One of the most popular bitcoin wallets is MetaMask. MyEtherWallet, Wallet Connect, and Coinbase are some of popular wallets.
The user who wants to sell their NFT must mint and list them in the marketplace, along with the name, description, price, and other pertinent information. When listing NFTs, they have three options: auction, fixed price listings, and declining listings.
The traders can easily exchange NFTs in the market by participating in the NFT platform. The traders can easily trade NFTs in the marketplace by participating in the NFT marketplace. At last, users can check the trading history with the relevant details. They should be able to choose the available modes of transactions in the NFT marketplace.
Final Thoughts
Developing a sophisticated platform like the NFT marketplace necessitates a team of specialists with years of expertise and a dependable development partner, such as Infinite Block Tech, who can assist you in creating your own unique NFT Marketplace blockchain platform. We know exactly how blockchain works and how to design an NFT marketplace Solution that caters to your company's needs and connects with your brand, due to our years of software development expertise and professional and experienced development teams.